Confused by Mankading?
Is all you get when searching it this man?
Don't worry. I will explain everything.
"What is it?"
Good question. It's really simple. Mankading refers to running out the non striking batsman.
Before the ball has been bowled, the non striker backs up [runs a few yards extra]; to get a head start for a run. This means they often leave their crease early, and can thus be run out.
Other cricketers don't go as far as actually doing it, but merely taunt the batsman to know they can do it. Thanks Chris..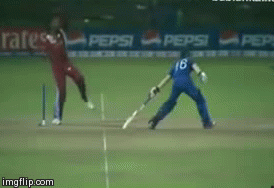 Thanks Chris.
Is it legal to do this?
Kind of yes. Oh allright, completely yes.
The ICC's playing regulation 42.11, which replaces Law 42.15 in international cricket, states:
"The bowler is permitted, before releasing the ball and provided he has not completed his usual delivery swing, to attempt to run out the non-striker."
The ICC essentially run the game's playing regulations, although the MCC are of course responsible for making the actual laws and spirit of the game. The MCC states the run out attempt must come before the bowler enters his delivery stride.
In other words, according to the ICC it must be before the action is completed. According to the MCC before the stride has started.
If we play by the laws of the game made hundreds of years ago, Mankading should be hard to do, but if by the current playing regulations, it should happen lots and lots.
The ICC [who run the modern playing regulations, like fielding restrictions etc] allow it to come any time before the bowler completes his "delivery swing", whatever that means.
So what's the problem then!?
Well you see there is this mystical thing called the spirit of cricket.
It's kind of like the ghost of christmas past; except it actually does have a tangeble effect on how players play.
The spirit of cricket implies sportsmanship, and a way to play the game.
For some, Mankading is against the spirit of cricket, because the batsman leaves the crease inadvertently. They aren't trying to steal a run. Except they are. That's exactly what they're doing.
This is going through your head now?  [Via @daniel86cricket ]
It basically allows the batsman to have a head start for a run, whilst the bowler is not allowed a to overstep. And it is presented as sportsmanship NOT to run them out.
Maybe we have just been getting it wrong all along? [Via @kskarun ]
In reality, it has been going on for a long time.
Mankading (Law 38) has been in existence since 1800s. This drawing by N Felix circa 1850 bears testimony to this fact pic.twitter.com/T3qOrgDxg4

— Mohandas Menon (@mohanstatsman) June 4, 2014
In more modern terms, it was ignited as an issue of 'sportsmanship' when India toured Australia in 1947 and the man at the top [Vinoo Mankad] did it to Bill Brown.
Don Bradman defended him.
In his autobiography, Don Bradman said the following:
"For the life of me, I can't understand why [the press] questioned his sportsmanship. The laws of cricket make it quite clear that the nonstriker must keep within his ground until the ball has been delivered. If not, why is the provision there which enables the bowler to run him out? By backing up too far or too early, the nonstriker is very obviously gaining an unfair advantage."
But some, such as Piers Morgan says that it is not a legitimate way of dismissal as it is against the spirit.
So.. who's side are you on?
The Don? Or Piers Morgan
Michael Clarke was certainly happy to say that it is a legitimate dismissal:
Although England's captain, Alastair Cook continued to moan and groan:
Bearing in mind things like playing leg side shots, bowling bouncers, and even bowling over arm, back in the day; were once considered as 'unsportsmanlike', maybe it's time to move on?
Maybe it should be used more widely, and made a more conventional way of getting a batsman out. If batsmen insist on running down the pitch and getting a head start, it should be at their own peril